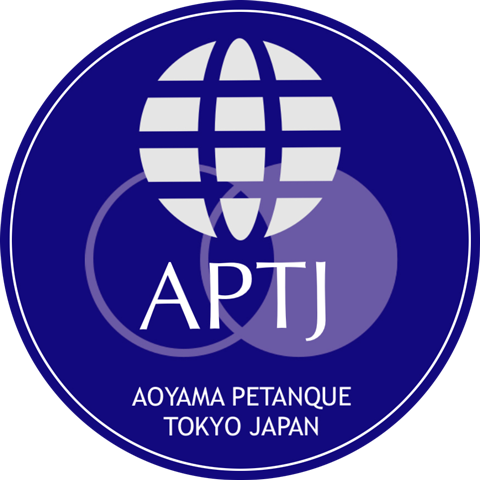 Aoyama

Petanque

Aoyama Petanque is an informal group of petanque enthusiasts who make Aoyama Park in Minato-ku, Tokyo, their home ground for exiting boules action.
青山ペタンクは、東京都港区立青山公園をホームグランドとして、戦略性に富み楽しいブール・スポーツを楽しむ、ペタンク愛好家のグループです。

Schedule:
Saturday afternoon (resuming petanque session with Covid-19 prevention rules applying)
From 12:00 to 17:00 (or till darkness during the winter months)
Aoyama Park, Minato-ku, Tokyo
毎週土曜午後12時過ぎから5時頃(冬場は夕方早め) 東京都港区の都立青山公園

◆Measures to prevent the spread of the new coronavirus / 新型コロナウイルスの感染拡大防止策に伴う公園利用について皆さまにお願い◆

5/26/2020
Covid-19 prevention Aoyama Petanque Rule Additions / コロナ対策の為の青山ペタンク内でのローカルルール
◆ Small scale gathering, practice matches only.
少人数で練習試合のみ。
◆ Keep a social distance of 2 m between players.
常にプレイヤーは2mのソーシャルディスタンス保つ。
◆ Define terrain with out-lines. Open 3m space between each terrain.
アウトラインを引いたテランを使用、隣のテランとは3mの距離を空ける。
◆ Single or Doubles matches only.
シングルス又はダブルスのゲームのみ。
◆ Each team stays at their side line, only step into the terrain when play.
各チームはそれぞれのサイドラインにとどまり、テランに足を踏み入れるのはプレーする時のみ。
◆ Player uses own but.
プレイヤーは自分のビュットを使用する。
◆ Player uses own measuring tool.
プレイヤーは自分のメジャーを使用する。
◆ No plastic circle used, draw the circle on the ground (35 - 50 cm)
プラスチック・サークルを使用せず、サークルは(35cmから50cm)テランの地面に描く。
◆ Only pick up your own boules.
自分だけのブールを拾う。
◆ No handshakes, high-fives and hugging. Wear a face mask.
握手、ハイタッチ、ハグなし。フェイスマスクを着用。
◆ Wash and disinfect your hands and boules carefully after the game.
プレイ後は、しっかり手とブールを消毒する。

3/26/2020
Aoyama Petanque Saturday sessions at Aoyama Park are canceled due to the Tokyo governor's request for people to stay indoors over the weekend. Thank you for your cooperation and stay safe!
青山公園での土曜日のセッションは、東京知事の屋内滞在の要請により中止されました。 ご理解のほど宜しく申し上げます。健康にお気を付けてください。

3/5/2020
As of this week the Tokyo government urged residents for the time being to refrain from holding drink and food parties in parks. This call for self-restriction also includes our terrain at Aoyama Park. There will be no table and chairs available during our petanque sessions. Please only bring drinks and food for your own personal consumption. Thank you for your cooperation.
今週から東京都政府は当面の間、公園での飲食やパーティーを控えることを住民に促した。この自主規制の要請は青山公園も含まれます。これからのペタンクセッションでは、テーブルと椅子は利用できません。よって、飲み物と食べ物は個人消費のみ持参して下さい。これから長く公園を利用する為にも皆様のご協力お願いします。

How to get there
Subway: Tokyo Metro Chiyoda Line, Nogizaka Station. Take exit no. 5. Turn left and cross the street at the traffic light towards the park. The petanque ground is located next to the soccer field.
地下鉄:東京メトロ千代田線「乃木坂」下車。5番出口を出て、左方向へ歩き、横断歩道を渡った先が青山公園。ペタンク練習場所はサッカー場よりも手前。
2020 Yamakita Mikan Petanque Tournament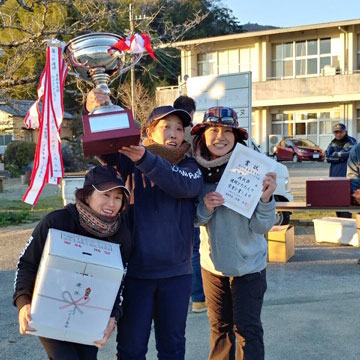 AKB (Aoyama Kochi Bonnou) in 1st Place! - more…
2020年初投げ
2019 Tokyo Triplet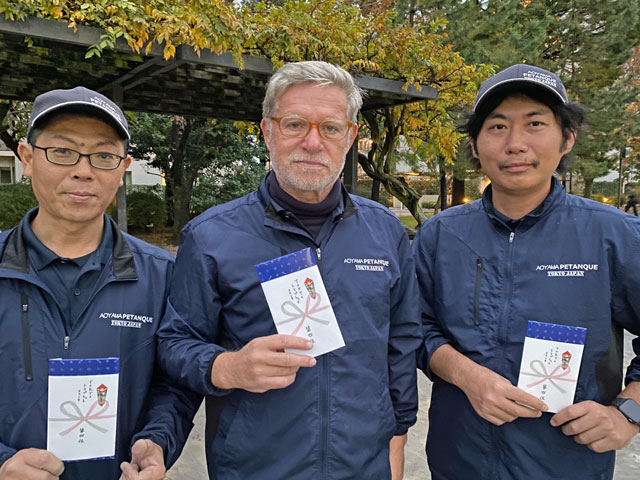 Aoyama Petanque in 4th Place - more…
2019 Tokyo Petanque Meeting Tournament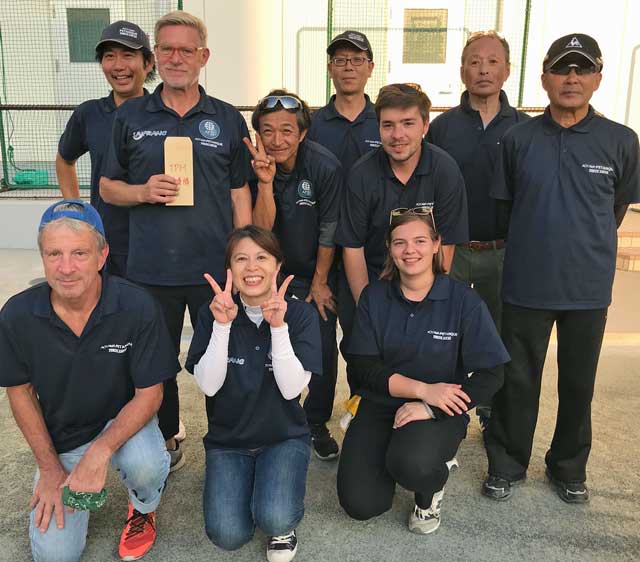 Aoyama Petanque in 2nd Place - more…
2019 Misato Ladies&Dandies Petanque Tournament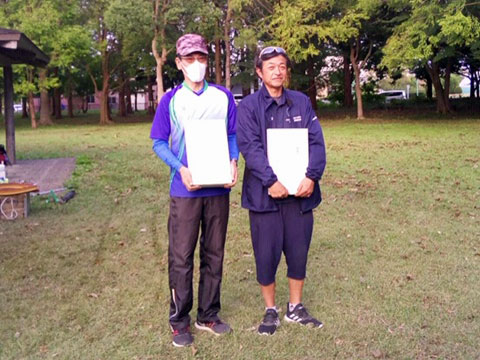 Goma Naoki in 1st Place! - more…
Friendly International Matches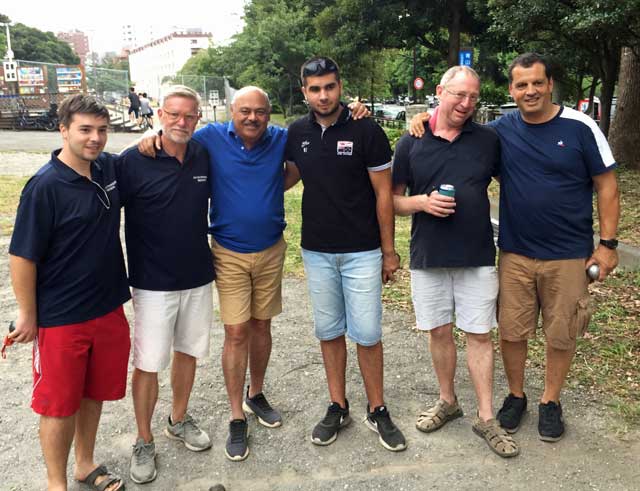 French petanque players visit Aoyama! - more…
2019 Akasakapeco Petanque Tournament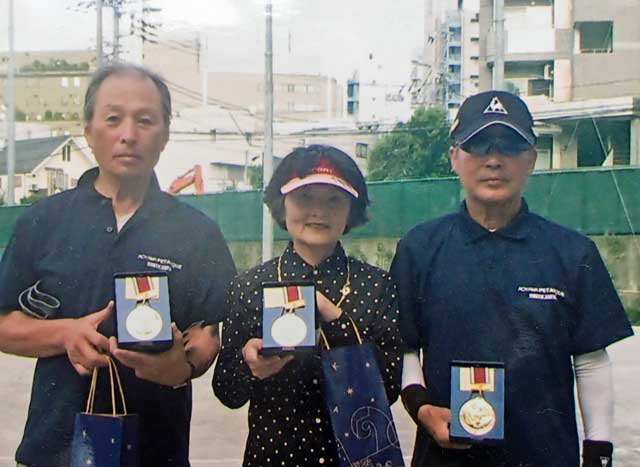 Aoyama Petanque team reaches second place - more…
2019 Tani Cup Petanque Tournament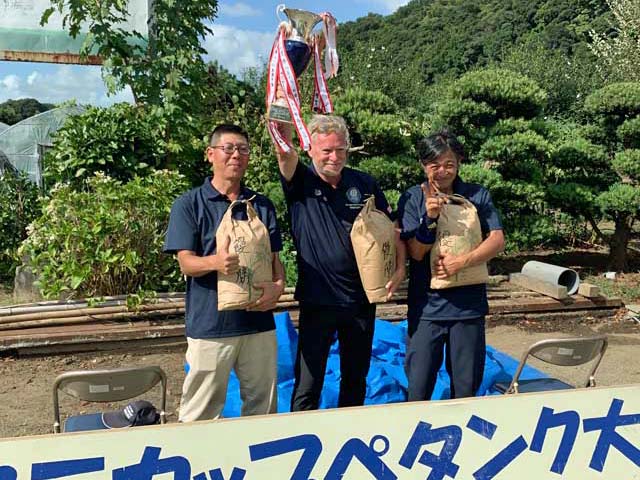 Aoyama Petanque Team 1 in first place! - more…
2019 Kawasaki Petanque Tournament
Aoyama Petanque players on top! - more…
Ayumi Goma wins Bronze medal in the Women's Single Petanque at the Asian Beach Games 2016
郷間 亜由美選手はアジアビーチゲームズ2016でペタンク女子シングルの銅メダル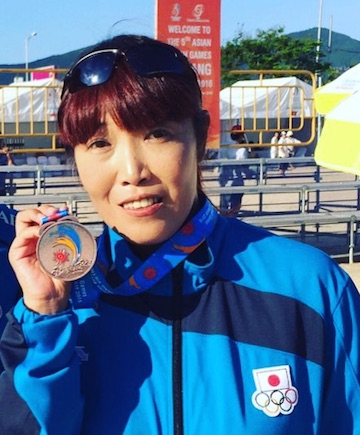 Our Aoyama Petanque teammate Ayumi Goma put on a great performance at the Asian Beach Games 2016 in the Women's Single Petanque - more…
History
Although Aoyama Petanque's structure is not based on formal club statutes, we may still select teams to compete in petanque tournaments, or organize events to promote the game of petanque. Foremost, Aoyama Petanque is striving to rise our competitive petanque skill levels, but also without giving up all the fun that leisure petanque offers.
正式なクラブ組織構成は持たないものの、ペタンクのトーナメントのためにチームを選出・参戦したり、ペタンクの啓蒙活動も兼ねたイベントを企画運営したりもします。青山ペタンクの最も重要な目標は、全メンバーのペタンク技術の向上により、高い競技性を達成する事とし、努力や研鑚をしながらも、レジャーとしてペタンクを楽しむ精神も忘れない事です。
2005 – 2006: Aoyama Petanque established as an informal group.
2006 – 2009: Registered club with the Japan Petanque Boules Union (JPBU)
2009 – today: Aoyama Petanque returns to its roots as an informal group.
Contact Aoyama Petanque: aoyama(at)petanque.cc