21st Koto-ku Petanque Tournament
Aoyama Petanque 2 in 1st Place!
2016/5/15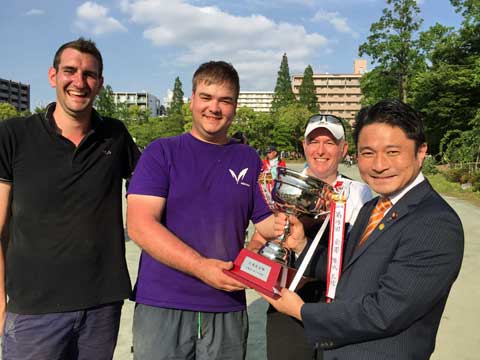 From left: Arnaud, Matthias and Chris are presented the Koto-ku Mayor Cup by Mr. Kakizawa, member of the House of Representatives.
For its 20th anniversary the 2016 Koto-ku Petanque Tournament was held with a large and strong field of 44 teams battling for the title under a blue sky on Sunday, May 15, 2016 at the Kiba Park venue.
The team of Aoyama Petanque 2 sneaked into the final rounds after a second place in the selection group in the morning. But once in the final rounds, there was no stopping them. Accurate pointing and a steady hand for shooting the opponent's boules, Arnaud, Matthias and Chris cruised right into the final match.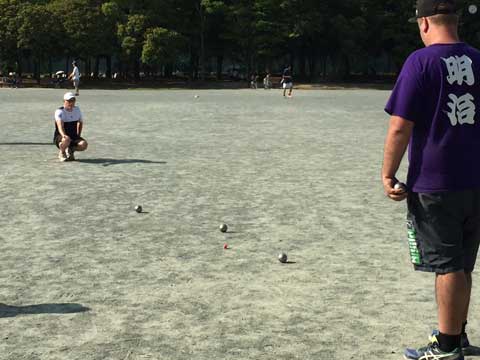 Chris and Matthias in action.

Aoyama Petanque 2 in the back and the team NDB 4 in front.
In the final Arnaud, Matthias and Chris were in good control, never letting the opponents into the lead. With a time limit of 50 min. the match ended with Aoyama Petanque 2 winning 9-2! Congratulations! From all Aoyama Petanque members who enthusiastically cheered for their team during the whole final.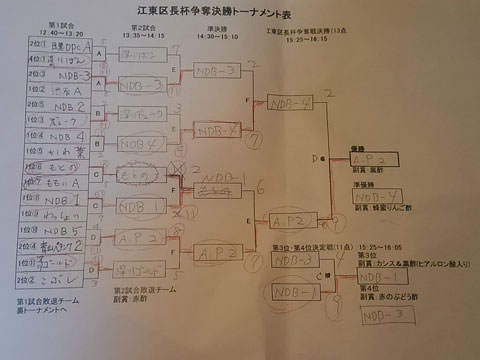 Results of the final rounds.
The other two Aoyama Petanque teams had mixed results. Aoyama Petanque 1 won the tanoshimi tournament and Aoyama Petanque 3 struggled the day long for a winning game.

Aoyama Petanque 1 (Ogawa, Ayu and Adrian)
Of course, the following Saturday a few champagne bottles popped up at Aoyama Park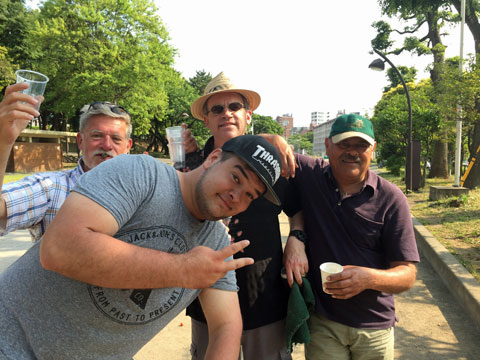 Matthias celebrating the champion title